Every Friday Book Beginnings on Friday is hosted by Gillion at Rose City Reader where you can share the first sentence (or so) of the book you are reading, along with your initial thoughts about the sentence, impressions of the book, or anything else the opener inspires.
This week I'm featuring Notes from an Exhibition by Patrick Gale. This is one of the TBRs I featured in my last A – Z of TBRs. I've decided now is the time to read this book which has been on my TBR shelves for five years.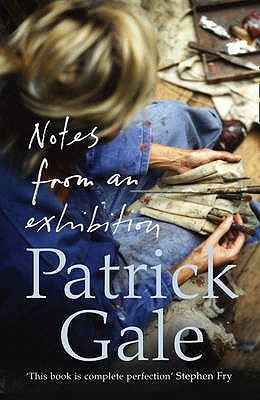 The title of this book is taken from the notes displayed describing works of art in a gallery or museum or referring to Rachel Kelly's art or possessions, and each section of this book is headed by one of these notes. This is the note heading the first chapter of the book:
Also every Friday there is The Friday 56, hosted by Freda at Freda's Voice. These are the rules:
Grab a book, any book.
Turn to page 56, or 56% on your eReader.
Find any sentence (or a few, just don't spoil it) that grabs you.
Post it.
Add the URL to your post in the link on Freda's most recent Friday 56 post.
Page 56
She had less strength in her arms than in vigorous youth and hated asking for help in stretching canvases. Besides Anthony had arthritic wrists so was not much stronger than she. So she had taken more and more to working on convenient whiteboards rarely larger than a biscuit tin, sometimes s small as a piece of toast.
From the back cover:
Gifted artist Rachel Kelly is a whirlwind of creative highs and anguished, crippling lows. She's also something of an enigma to her husband and four children. So when she is found dead in her Penzance studio, leaving behind some extraordinary new paintings, there's a painful need for answers. Her Quaker husband appeals for help on the internet. The fragments of a shattered life slowly come to light, and it becomes clear that bohemian Rachel has left her children not only a gift for art – but also her haunting demons.