I love doing Six Degrees of Separation, a monthly link-up hosted by Kate at Books Are My Favourite and Best. Each month a book is chosen as a starting point and linked to six other books to form a chain. A book doesn't need to be connected to all the other books on the list, only to the one next to it in the chain.
This month the chain begins with It by Stephen King – in the storm drains, in the sewers, IT lurks, taking on the shape of every nightmare, each one's deepest dread. Sometimes IT appears as an evil clown named Pennywise and sometimes IT reaches up, seizing, tearing, killing…
I haven't read It but I have read  a few of Stephen King's books including Joyland, which is a ghost story, a love story, a story of loss and heartbreak, set in a funfair. It's also a murder mystery and utterly compelling to read. (my review)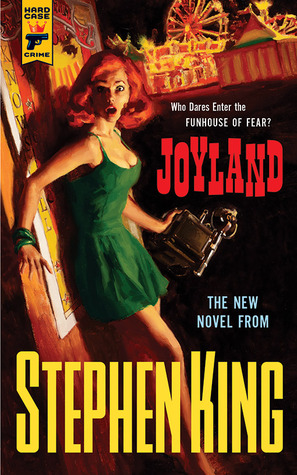 The next link in my chain is to an another ghost story – Dark Matter by Michelle Paver, a chilling book, very chilling, both in the setting in the High Arctic and in atmosphere.
It's a ghost story in the form of a diary – that of Jack Miller who in 1937 was part of an expedition to the High Arctic to study its biology, geology and ice dynamics and to carry out a meteorological survey. As the darkness descends, Jack is left alone at the camp and his nightmare really begins. And it is very scary! (my review)
I'm moving away from dark and scary stories to another book with 'matter' in its title – to Alive, Alive Oh! And Other Things That Matter by Diana Athill.
It's only a short book but it covers a wide range of Diana Athill's memories, many images of beautiful places, and the friends and lovers she has known. The chapters follow on chronologically but are unconnected except for the fact that they demonstrate her love of life. It was heart breaking to read her remarkably candid account of  the miscarriage she had when she was in her early 40s and she nearly died. (my review)
Katherine of Aragon also suffered from miscarriages during her marriage to Henry VIII. Antonia Fraser's Six Tudor Queens: Katherine of Aragon, the True Queen is fictional biography at its most straight forward, written in an uncomplicated style.
It's a long and comprehensive study, told from Katherine's point of view it follows her life from the time she arrived in England at the age of sixteen to marry Prince Arthur, the elder of Henry VII's two sons, to her death in 1536. (my review)
Another Katherine living in the Tudor period is Lady Katherine Grey, who was one of the heirs to the throne and a rival to the Tudor Queens, Mary and Elizabeth I. Leanda de Lisle tells her story and that of her sisters in The Sisters Who Would Be Queen: The tragedy of Mary, Katherine and Lady Jane Grey. 
Lady Jane Grey  is remembered in British history as the monarch with the shortest reign… just nine days. In 1553 after the death of her cousin, the protestant King Edward VI she was proclaimed Queen in place of his Catholic half sister, Mary Tudor. Mary overthrew Jane 13 days later, and she was tried for treason, found guilty and was executed. (this is one of my TBR books)
Lady Jane Grey features in The Vanishing Box by Elly Griffiths, the fourth book in the DI Stephens and Max Mephisto series.
Lily Burtenshaw was murdered. She was found in her room tied to a chair, leaning forward and pointing to an empty crate with 'King Edward Potatoes' written on the side. She had been posed to look like Lady Jane Grey in the painting by Delaroche, of her execution at the moment she was being helped to lay her head upon the block. (my review)
My chain began with a book  about a scary clown, moved to a scary funfair to yet another scary book set in the Arctic. It then travelled to a different matter – that of miscarriages, then to the sister of a short-lived queen and finally to a murder mystery in which the victim was posed as Lady Jane Grey.  From America to England in both the past and the present, from fiction to historical biography and then to a murder mystery – from horror to murder in six steps!
Next month January 6, 2018), the chain will begin with an international bestseller (that I haven't read) – Alexander McCall Smith's No.1 Ladies Detective Agency.