I'm so glad I read Joyland by Stephen King – it's so good.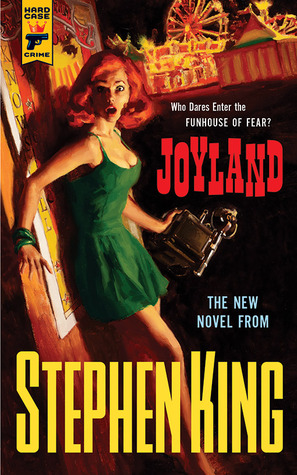 I nearly didn't buy it, put off by the cover (you should never judge a book by its cover!) and by the publishers, Hard Case Crime – it was the word 'hard' that really made me pause, especially when I looked at their site and saw they publish 'the best in hardboiled crime fiction'. Not being quite sure just what 'hard boiled crime fiction' is, I looked it up. This is Encyclopedia Britannica's definition:
Hard-boiled fiction, a tough, unsentimental style of American crime writing that brought a new tone of earthy realism or naturalism to the field of detective fiction. Hard-boiled fiction used graphic sex and violence, vivid but often sordid urban backgrounds, and fast-paced, slangy dialogue.
Not my sort of book, at all! But it's by Stephen King and I like his books, so I did buy it. It's not 'hard boiled fiction' as defined above. The only way it fits that definition is that there is a lot of slang in it – 'carny' slang, which King explains in his Author's Note is what he calls in this book 'the Talk'. It is 'carnival lingo, an argot both rich and humorous'. So not 'hard boiled' at all!
Joyland is a ghost story, a love story, a story of loss and heartbreak. It's also a murder mystery and utterly compelling to read.
It's narrated by Devin Jones, looking back forty years at the time he was a student, suffering from a broken heart, as his girlfriend had just rejected him and he spent a summer working at Joyland, in North Carolina, an amusement park with 'a little of the old-time carny flavor'.
Along with various rides, 'Happy Hounds', and a palm-reader, there is the Horror House, a 'spook' house which is said to be haunted by the ghost of Linda Gray, whose boyfriend cut her throat in the Horror House. The boyfriend had not been found and it appears he may be a serial killer as there had been four other similar murders in Georgia and the Carolinas.
It's also a story of friendship, of Tom and Erin, of children with the 'sight', a young boy in a wheelchair and his mother, and Dev's search for the killer.
I loved the setting of the funfair, Dev's nostalgia for his youth, his sensitivity, and the images the story evokes – it's not just the story but the way King tells his tale, with just a touch of horror and the supernatural.
Who knows – maybe I should read some more of Hard Case Crime's publications!
Reading Challenges – Readers.Imbibing.Peril XI.