WWW Wednesday is run by Taking on a World of Words.
The Three Ws are:
What are you currently reading?
What did you recently finish reading?
What do you think you'll read next?


I'm currently reading: three books, one historical fiction in hardback, one crime fiction on my Kindle and one non-fiction that I've borrowed from the library.
Tombland by C J Sansom, the 7th book in his Shardlake series, set in 1549 two years after the death of Henry VIII.
I'm just settling into this book – Edward VI, is eleven years old and his uncle Edward Seymour, Lord Hertford, rules England as Protector. Matthew Shardlake, a lawyer in the employ of Lady Elizabeth, the old King's younger daughter, is once more called on to investigate a murder, that of Elizabeth's distant relative, Edith Boleyn. 1549 is the year of Kett's Rebellion, which began when a group of rebels destroyed fences that wealthy landowners had erected to enclose their land.
I'm also reading The Darkest Place by Jo Spain, the Kindle edition was published on 20 September 2018. It's the fourth Inspector Tom Holland mystery. I've read nearly 70% and am really enjoying it.
Synopsis:
Christmas day, and DCI Tom Reynolds receives an alarming call. A mass grave has been discovered on Oileán na Caillte, the island which housed the controversial psychiatric institution St. Christina's. The hospital has been closed for decades and onsite graves were tragically common. Reynolds thinks his adversarial boss is handing him a cold case to sideline him.
But then it transpires another body has been discovered amongst the dead – one of the doctors who went missing from the hospital in mysterious circumstances forty years ago. He appears to have been brutally murdered.
As events take a sudden turn, nothing can prepare Reynolds and his team for what they are about to discover once they arrive on the island . . .
And I've also started to read Jacob's Room is Full of Books, by Susan Hill in which she writes about the books she has read, reread or returned to the shelf during one year.
It's a mix of reflections on the books, on writing and of observations about a variety of topics, month by month.
I've recently finished: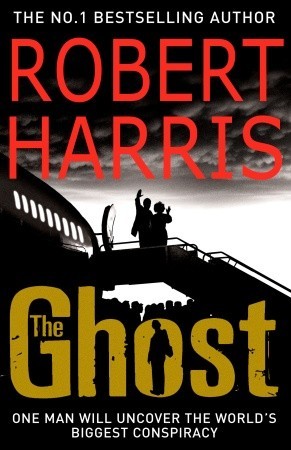 The Ghost by Robert Harris. I quoted the opening paragraph and synopsis in this post. It's a political thriller with an anonymous narrator who is the 'ghost' or rather a ghostwriter employed to write the autobiography of Adam Peter Benet Lang, recently retired prime minister of Great Britain. I'm writing my review and will post it in the next few days.
My next book could be:
I am torn, as usual, wanting to read several books at once. I so want to start Daisy in Chains by Sharon Bolton – I wrote a bit about this book in this post.  It's crime fiction about a convicted murderer, Hamish Wolfe who tries to convince, defence barrister Maggie Rose that he is innocent.
But there are many more books also crying out to be read, so when the time comes to start another book, it could be something completely different.
Have you read any of these books?  Do any of them tempt you?