This Week in Books is a weekly round-up hosted by Lypsyy Lost & Found, about what I've been reading Now, Then & Next.
A similar meme,  WWW Wednesday is run by Taking on a World of Words.
Currently reading:
I have started to read The Fire Court by Andrew Taylor, due to be published 5 April 2018 and it's looking good so far.
Blurb:
Somewhere in the soot-stained ruins of Restoration London, a killer has gone to ground…
The Great Fire has ravaged London, wreaking destruction and devastation wherever its flames spread. Now, guided by the incorruptible Fire Court, the city is slowly rebuilding, but times are volatile and danger is only ever a heartbeat away.
James Marwood, son of a traitor, is thrust into this treacherous environment when his ailing father claims to have stumbled upon a murdered woman in the very place where the Fire Court sits. Then his father is run down and killed. Accident? Or another murder…?
Determined to uncover the truth, Marwood turns to the one person he can trust – Cat Lovett, the daughter of a despised regicide. Marwood has helped her in the past. Now it's her turn to help him. But then comes a third death… and Marwood and Cat are forced to confront a vicious and increasingly desperate killer whose actions threaten the future of the city itself.
Recently finished:
The last book I finished is The Tenderness of Wolves by Stef Penney, historical fiction set in Canada in 1867. I am so, so pleased to finish this as it has taken me almost 4 weeks to read it. I found it really hard to get into it at first and disliked the use of the present tense throughout. But overall I did like the story and will try to expand on these thoughts in a separate post.
Next:
Now the difficult part – what to read next!
I really should get back to reading Little Dorrit which I temporarily put on the back burner so that I could finish The Tenderness of Wolves. It's my Classics Club Spin book but haven't got very far with it yet and it's looking extremely unlikely that I'll finish it by the end of April!
But I am so tempted to read The Seven Deaths of Evelyn Hardcastle by Stuart Turton that I've borrowed from my local library as I suspect I won't be able to renew it.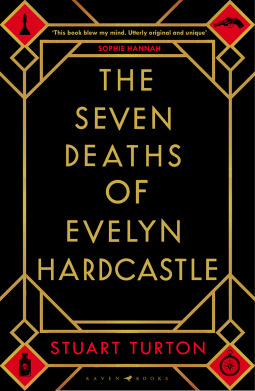 Blurb (Goodreads):
How do you stop a murder that's already happened?
At a gala party thrown by her parents, Evelyn Hardcastle will be killed–again. She's been murdered hundreds of times, and each day, Aiden Bishop is too late to save her. Doomed to repeat the same day over and over, Aiden's only escape is to solve Evelyn Hardcastle's murder and conquer the shadows of an enemy he struggles to even comprehend–but nothing and no one are quite what they seem.
Deeply atmospheric and ingeniously plotted, The Seven Deaths of Evelyn Hardcastle is a highly original debut that will appeal to fans of Kate Atkinson and Agatha Christie.
Have you read any of these books?  Do any of them tempt you?