Every Friday Book Beginnings on Friday is hosted by Gillion at Rose City Reader where you can share the first sentence (or so) of the book you are reading, along with your initial thoughts about the sentence, impressions of the book, or anything else the opener inspires.
At least two of my blogging friends, Cleo and Helen, have written reviews of The Seven Deaths of Evelyn Hardcastle, which have tempted me to at least have a look at this book. I hesitate because it's written in the present tense, which often irritates me. So I decided to borrow a copy from the library and I collected it yesterday.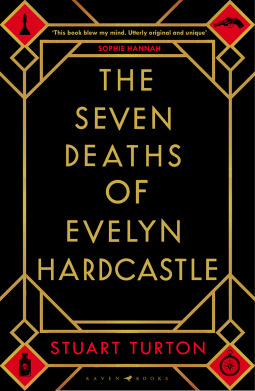 Day One

I forget everything between footsteps.

'Anna!' I finish shouting, snapping my mouth shut in surprise.

My mind has gone blank. I don't know who Anna is or why I'm calling her name. I don't even know how I got here. I'm standing in a forest, shielding my eyes from the spitting rain. My heart's thumping, I reek of sweat and my legs are shaking. I must have been running but I can't remember why.
Blurb:
'Somebody's going to be murdered at the ball tonight. It won't appear to be a murder and so the murderer won't be caught. Rectify that injustice and I'll show you the way out.'
It is meant to be a celebration but it ends in tragedy. As fireworks explode overhead, Evelyn Hardcastle, the young and beautiful daughter of the house, is killed.
But Evelyn will not die just once. Until Aiden – one of the guests summoned to Blackheath for the party – can solve her murder, the day will repeat itself, over and over again. Every time ending with the fateful pistol shot. 
The only way to break this cycle is to identify the killer. But each time the day begins again, Aiden wakes in the body of a different guest. And someone is determined to prevent him ever escaping Blackheath…
Also every Friday there is The Friday 56, hosted by Freda at Freda's Voice. These are the rules:
Grab a book, any book.
Turn to page 56, or 56% on your eReader.
Find any sentence (or a few, just don't spoil it) that grabs you.
Post it.
Add the URL to your post in the link on Freda's most recent Friday 56 post.
Page 56:
How can I explain that a strange chap in a plague doctor costume warned me to keep an eye out for a footman – a name that means nothing to me, and yet fills me with a crippling fear every time I hear it?

'I'm sorry, Evie,' I say, shaking my head ruefully. 'There's more I need to tell you, but not here and not quite yet.'
~~~
The endpapers show a plan of Blackheath House and the various cottages in the grounds, together with plans showing the locations of the rooms and where each guest is staying. It reminds me a bit of the game Cluedo.
What do you think – should I carry on reading – or not?