Every Friday Book Beginnings on Friday is hosted by Gillion at Rose City Reader where you can share the first sentence (or so) of the book you are reading, along with your initial thoughts about the sentence, impressions of the book, or anything else the opener inspires.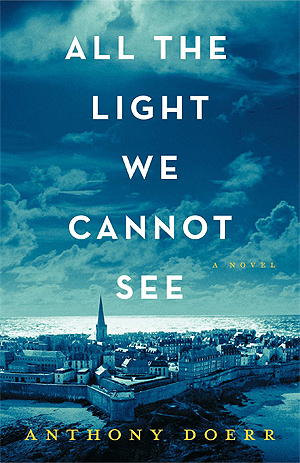 This morning I began reading All the Light We Cannot See by Anthony Doerr (one of the TBRs on my Kindle) and already I think I'm going to like it very much.
It begins:
Zero

7 August 1944

Leaflets

At dusk they pour from the sky. They blow across the ramparts, turn cartwheels over rooftops, flutter into the ravines between houses. Entire streets swirl with them, flashing white against the cobbles. Urgent message to the inhabitants of this town, they say. Depart immediately to open country.
A dramatic opening, immediately alerting me to the danger that is to come.
Also every Friday there is The Friday 56, hosted by Freda at Freda's Voice.
These are the rules:
Grab a book, any book.
Turn to page 56, or 56% on your eReader.
Find any sentence (or a few, just don't spoil it) that grabs you.
Post it.
Add the URL to your post in the link on Freda's most recent Friday 56 post.
Page 56:
All day Marie-Laure lies on her stomach and reads. Logic, reason, pure science: these Aronnax insists, are the proper ways to pursue a mystery. Not fables and fairy tales.
Synopsis:
A beautiful, stunningly ambitious novel about a blind French girl and a German boy whose paths collide in occupied France as both try to survive the devastation of World War II
Marie-Laure has been blind since the age of six. Her father builds a perfect miniature of their Paris neighbourhood so she can memorize it by touch and navigate her way home. But when the Nazis invade, father and daughter flee with a dangerous secret.
Werner is a German orphan, destined to labour in the same mine that claimed his father's life, until he discovers a knack for engineering. His talent wins him a place at a brutal military academy, but his way out of obscurity is built on suffering.
At the same time, far away in a walled city by the sea, an old man discovers new worlds without ever setting foot outside his home. But all around him, impending danger closes in.
Doerr's combination of soaring imagination and meticulous observation is electric. As Europe is engulfed by war and lives collide unpredictably, '˜All The Light We Cannot See' is a captivating and devastating elegy for innocence.