I love doing Six Degrees of Separation, a monthly link-up hosted by Kate at Books Are My Favourite and Best. Each month a book is chosen as a starting point and linked to six other books to form a chain. A book doesn't need to be connected to all the other books on the list, only to the one next to it in the chain.
This month the chain begins with a controversial bestseller by a member of the eighties 'literary Brat Pack' – Bret Easton Ellis's Less Than Zero.
I haven't read this book and can't say that it appeals to me at all. Filled with relentless drinking in seamy bars and glamorous nightclubs, wild, drug-fuelled parties, and dispassionate sexual encounters, Less Than Zero – narrated by Clay, an eighteen-year-old student returning home to Los Angeles for Christmas – is a fierce coming-of-age story, justifiably celebrated for its unflinching depiction of hedonistic youth, its brutal portrayal of the inexorable consequences of such moral depravity, and its author's refusal to condone or chastise such behaviour. (Amazon UK)
So, the first link in my chain is to an another book with the word 'zero' in the title – Towards Zero by Agatha Christie.
It's one of my favourite of Agatha Christie's books, first published in 1944, with an intricately plotted murder mystery featuring Superintendent Battle. The hypothesis is that murder is not the beginning of a detective story, but the end. It is the culmination of causes and events bringing together certain people, converging towards a certain place and time – towards the Zero Hour. The idea presupposes that there is an inevitability – that once events have been set in motion then the outcome is determined. Agatha Christie dedicated this book to Robert Graves, author of I Claudius, who was her neighbour in Devon during the Second World War and the two had become friends.
I read I, Claudius and Claudius the God  by Robert Graves many years ago after watching the TV adaptation with Derek Jacobi playing the role of Claudius. Set in the first century A.D. in Rome, this is the life story of the Roman Emperor Claudius. A lame man and a stammerer, he was despised and dismissed as an idiot. He recorded the antics of the imperial household as its members vied for power; a story of murders, greed and folly. He had a disastrous love affair with the depraved Messalina but his reign as Emperor was surprisingly successful.
My next link is to another book I read after first watching the TV adaptation – it's A Game of Thrones by G R R Martin, fantasy fiction. I loved both the book and the TV series. It's complex and multifaceted, and it's full of stories and legends, set in a grim and violent world full of tragedy, betrayals and battles; a tale of good versus evil in which family, duty, and honour are in conflict, the multiple viewpoints giving a rounded view of the conflicts the characters face. It's a love story too.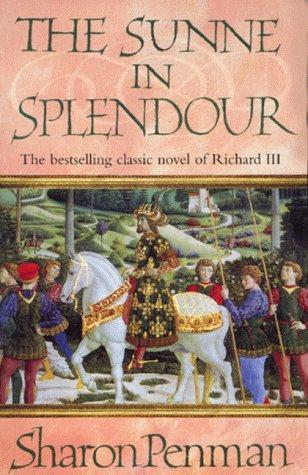 Just before I read The Game of Thrones I'd read The Sunne in Splendour by Sharon Penman, historical fiction about the Wars of the Roses and had noticed the similarities between that and A Game of Thrones, the battles between the Houses of York and Lancaster paralleled by those between the Houses of Stark and Lancaster for example. This is one of the best historical novels that I've read. It is full of detail, bringing Richard III's world to life. It's a long book, nearly 900 pages and it took me a while to read it, but never once did I think it was too long, or needed editing. I loved it.
Another very long book is The Pillars of the Earth by Ken Follett. It has 1,076 pages and is historical fiction set in 12th century England during the time of the civil war between Stephen and Matilda/Maud (she's known by both names – in this book she's called Maud, but at school we were taught her name was Matilda). It's also the story of the building of a cathedral.  It is really a medieval soap opera – in essence a family saga. Parts of the novel came to life more than others and it is rather long-winded and repetitive, terrible things happen, the characters overcome them and recover only to be knocked down again by more terrible events.
'Earth' made me think of 'dust to dust' which in turn made me think of Philip Pullman's La Belle Sauvage, volume one of The Book of Dust. This is his latest book – I haven't read it yet – set ten years before His Dark Materials, telling the story of Lyra Belacqua's early life. Eleven-year-old Malcolm Polstead and his daemon, Asta, live with his parents at the Trout Inn near Oxford. Across the River Thames is the Godstow Priory where the nuns live. A baby by the name of Lyra Belacqua.
The next two books in the series, Pullman has said, will take place after the events of His Dark Materials – he describes this trilogy as neither a prequel nor a sequel but as an 'equel'.
My chain began with a book I haven't read and don't want to read and ended, so far from where it began, with another book I haven't read, but a book I'm looking forward to reading. It has travelled through time and space, taking in ancient Rome, medieval England and the fantasy worlds of G R R Martin and Philip Pullman.
Next month (December 2, 2017) the chain begins with Stephen King's It – where that will end I have no idea yet.