Six Degrees of Separation is a monthly link-up hosted by Kate at Books Are My Favourite and Best. Each month, a book is chosen as a starting point and linked to six other books to form a chain. A book doesn't need to be connected to all the other books on the list, only to the one next to it in the chain.
This month's chain begins with Nick Hornby's memoir (or love letter to soccer), Fever Pitch, which I haven't read. I know it's about football and wondered whether my first link would be to one of the other books my husband has about football and footballers, or to another book of memoirs.
But in the end I went for a link to the word fever. So my first link is to A Death in the Dales by Frances Brody, book 7 in her Kate Shackleton series, in which one of the characters, 14 year old Harriet has been in a fever hospital recovering from diphtheria. It's a murder mystery set in Derbyshire.
Derbyshire is the setting for my second link in the chain – A Place of Execution by Val McDermid. It's a freezing day in December 1963, when 13-year-old Alison Carter vanishes from the isolated Derbyshire village of Scardale. This is another book I haven't read -yet. Unlike Fever Pitch it's on my TBR list.
The third link is also a book set in winter – Winter in Madrid by C J Sansom, an action packed thrilling war/spy story set just after the Spanish Civil War. It's also a moving love story and historical drama all rolled into this tense and gripping novel.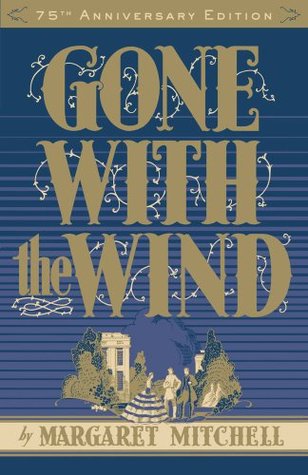 An obvious civil war link takes me to Gone With the Wind by Margaret Mitchell about the American Civil War and its aftermath. I loved this book so much more than I ever thought I would.  It is, of course, a book that was made into a film, which leads me to my fifth link …
Cloud Atlas by David Mitchell (I have two links here – film and author's surname). I tried to read the book first and failed, several times. It was watching the film that brought it to life. I then read and enjoyed the book. Cloud Atlas covers a time period from the 19th century to a post apocalyptic future using six loosely linked narratives. There are differences between the book and the film – they are are two different creations that complement each other.
My last book in the chain is also one I have started to read several times – it's Life After Life by Kate Atkinson, but so far I haven't finished it. I've read several of Kate Atkinson's books and enjoyed them, but somehow the first few chapters of Life After Life about Ursula Todd just didn't appeal. But at the end of last year I read A God in Ruins about Ursula's brother Teddy, and loved it. So I will get round to reading Life After Life sooner or later.
I never know where my chain will go when I start it. This one begins and ends with books I haven't read and it moves in place and time from England to Spain, America and back to England, linked by words, settings, genre, film adaptations and books I've found it hard to get into for one reason or another.
If you've also made a chain, or have read any of the books I've mentioned, especially the ones I haven't read, please let me know in the comments.
Next month (April 1, 2017), the chain will begin with Emma Donoghue's bestseller, Room – another book I haven't read.