This Week in Books is a weekly round-up hosted by Lypsyy Lost & Found, about what I've been reading Now, Then & Next.
A similar meme,  WWW Wednesday is run by Taking on a World of Words.
Now – I'm reading two books, one I've nearly finished, The 12.30 from Croydon by Freeman Wills Crofts
Blurb: We begin with a body. Andrew Crowther, a wealthy retired manufacturer, is found dead in his seat on the 12.30 flight from Croydon to Paris. Rather less orthodox is the ensuing flashback in which we live with the killer at every stage, from the first thoughts of murder to the strains and stresses of living with its execution. Seen from the criminal's perspective, a mild-mannered Inspector by the name of French is simply another character who needs to be dealt with. This is an unconventional yet gripping story of intrigue, betrayal, obsession, justification and self-delusion. And will the killer get away with it?
and The Eagle of the Ninth by Rosemary Sutcliff
Blurb: The Ninth Legion marched into the mists of northern Britain – and they were never seen again. Four thousand men disappeared and their eagle standard was lost. Marcus has to find out what happened to his father, who led the Ninth Legion. So he sets out into the unknown, on a quest so hazardous that no one expects him to return …
Then – the last book I finished was The Quarry by Iain Banks, which I enjoyed reading – it's funny in parts, angry, sad and miserable in others and about relationships and secrets.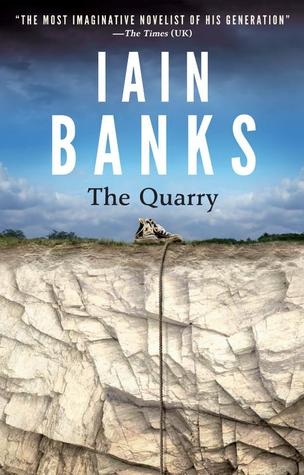 I wrote more about it in this post.
Next – The Elephant Keeper's Children by Peter Hoeg, Sarah Moss wrote in the Guardian that the hilarity of Peter Finø's narrative makes this a delightful novel even for readers who have limited tolerance of surrealism. I'm one of those readers so I hope I have enough tolerance for this book.
Blurb: Peter and Tilte are trying to track down two notorious criminals: their parents. They are the pastor and the organist, respectively, of the only church on the tiny island of Finø. Known for fabricating cheap miracles to strengthen their congregation's faith, they have been in trouble before. But this time their children suspect they are up to mischief on a far greater scale.
When Peter and Tilte learn that scientific and religious leaders from around the world are assembling in Copenhagen for a conference, they know their parents are up to something. Peter and Tilte's quest to find them exposes conspiracies, terrorist plots, an angry bishop, a deranged headmaster, two love-struck police officers, a deluded aristocrat and much more along the way.
If you've read any of these books, especially The Elephant Keeper's Children, I'd love to know what you think. And do let me know what you are reading this week.