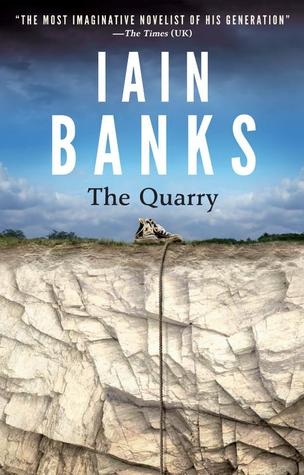 Blurb:
Kit doesn't know who his mother is. What he does know, however, is that his father, Guy, is dying of cancer. Feeling his death is imminent, Guy gathers around him his oldest friends '" or at least the friends with the most to lose by his death. Paul '" the rising star in the Labour party who dreads the day a tape they all made at university might come to light; Alison and Robbie, corporate bunnies whose relationship is daily more fractious; Pris and Haze, once an item, now estranged, and finally Hol '" friend, mentor, former lover and the only one who seemed to care.
But what will happen to Kit when Guy is gone? And why isn't Kit's mother in the picture? As the friends reunite for Guy's last days, old jealousies, affairs and lies come to light as Kit watches on.
My thoughts:
I enjoyed The Quarry, the last book Iain Banks wrote. He explained in this interview that it's a fairly simple book with not many characters, with only really one location and "it doesn't muck around with flashbacks or narrative order." It is quite strange really because he had already written 90% of it before he was diagnosed with cancer. I'm sometimes a bit wary of novels on cancer, but The Quarry isn't in the slightest a sentimental book, nor is it solely about cancer, or death, although Guy does rant about it. I particularly enjoyed his rants – as well as those about cancer he also rants about God, faith, miracles, politics, celebrities, the 'hounding of the poor and disabled and the cosseting of the rich and privileged', the unfair society we live in and so on.
Kit and Guy live in a house that is gradually falling to pieces, situated on the edge of a quarry in the Pennines. Kit is the narrator so we see the events of the weekend when Guy's friends came to visit through his eyes, as they reminisce about their time as film students and search through the house for a video tape they had made that could ruin all of their lives if it became public. And, of course, he wants to know who is mother is, is it Hol, Ali or Pris, or someone else?
Kit is my favourite character. He is 'very clever, if challenged in other ways', meaning he is 'on a spectrum that stretches from 'highly gifted' at one end to 'nutter' at the other.' He spends much of his time playing an online game called HeroSpace. I liked the descriptions of his rituals and his need for order – stirring tea and shopping in a certain order etc. Kit's internal monologue on responding to conversations is also fascinating, illustrating his struggles to interact with people socially.
I read it quickly – it's well written, easy to read and fast paced. The main characters, Kit, Guy and Hol are convincing characters, whereas the rest remained a bit blurred in my mind, despite the detailed descriptions of what they were wearing. The physical setting, whilst not actually precisely located, is good. I could easily visualise the house and its immediate setting next to the quarry, which plays a big part in the novel both as a physical entity and metaphorically – living on the edge of a precipice into which inevitably we will all fall.
I was gripped by the two strands – will they find the tape and what is on it and will Kit find out the identity of his mother? And Guy's character is particularly intriguing. It's an entertaining book, funny in parts, angry, sad and miserable in others and about relationships and secrets.
The Quarry is only the second book by Iain Banks that I've read. I've also read The Crow Road, which I thoroughly enjoyed, although I never got round to writing down my thoughts about it. I'm tempted to re-read it for comparison. I've started to read The Wasp Factory a few times and never got very far as other books pulled me away from it. So I'll try that again and the only other book of his that I own, A Song of Stone.