I enjoyed doing this last year, so here is this year's version. I like it because I just read what I want to read during the year and then see whether they will match the squares. And I've really enjoyed looking back at the books I've read. Last year I didn't complete the card – but this year I have!
A Book With More Than 500 pages
The Sunne in Splendour by Sharon Penman is the longest book I've read this year – 866 pages. It's a novel rich in detail about Richard III's life from his childhood to his death at Bosworth Field in 1485. I think this is one of the best historical novels that I've read. Penman portrays a very likeable Richard, from his childhood onwards he comes across as a kind, generous and brave man, a skilled leader on the battlefield, a loving husband to his wife, Anne, and devoted and loyal to his brother, Edward IV, who was by no means a saint.
A Forgotten Classic 
The Man Who Would Be King by Rudyard Kipling, which first published in 1888.  Set in India and narrated by a journalist, it's the story of two ruffianly-looking adventurers, wanderers and vagabonds, Daniel Dravot and Peachey Carnehan, who announce that they are off to Kafiristan in the mountains of Afghanistan to make themselves Kings. But some two years later, on a hot summer's night, what was left of Carnehan crept into the journalist's office with a sorry tale to tell.
A Book That Became a Movie
The Spy Who Came in from the Cold by John Le Carre, a dark, tense book and complicated. Back from Berlin where he had seen his last agent killed whilst trying to cross the Berlin Wall, Alex Leamas is apparently no longer useful to the British Secret Services. Now Control wants to bring him in '" but only after one final assignment. The atmosphere throughout is of secrecy, manipulation, of human frailty and its duplicitous nature and at times I wasn't sure just what was going on, what lay behind the scenes '" just what was Leamas up to, amidst the various deceptions and subterfuges?
A Book Published This Year
To the Bright Edge of the World by Eowyn Ivey. This is a lovely book, narrated through the journals of Allen Forrester, and the diaries of his wife, Sophie, about his journey in 1885 from Perkins Island up the Wolverine River in Alaska. It's a novel inspired by a historical military expedition but all the characters and many places in the story are fictionalised including the Wolverine River. I loved this story of great beauty and full of love, backed up by fact and elevated by Eowyn Ivey's writing.
A Book with a Number in the Title
Six Tudor Queens: Katherine of Aragon by Alison Weir –  fictional biography, told from Katherine's point of view it follows her life from the time she arrived in England at the age of sixteen to marry Prince Arthur, the elder of Henry VII's two sons, to her death in 1536. Overall I enjoyed this long and comprehensive study, based on extensive research and written with great attention to historical accuracy, but in places this made it tedious and too drawn out.
A Book Written by Someone Under Thirty
Extremely Loud And Incredibly Close by Jonathan Safran Foer – an unusual story about a boy whose father is killed in the September 11th attacks on the World Trade Centre. Oskar is is trying to discover the facts about his father's death and also to solve the mystery of a key he discovers in his father's closet by attempting to search for which of the 162 million locks in New York it might open.
A Book With Non-Human Characters
The Watchmaker of Filigree Street by Natasha Pulley, described as 'steampunk' this is a mixture of historical fact and fantasy set in Victorian times, both in London and Japan, following the lives of the main characters, Thaniel Stapleton, Keita Mori and Grace Carrow. Mori is a watchmaker extraordinaire and an inventor of amazing clockwork creations.Katsu the clockwork octopus is pure magic.
A Funny Book 
The Bottle Factory Outing by Beryl Bainbridge – it begins as a comedy, but then continues with an uneasy undercurrent before descending into a dark tragedy that is surreal and farcical and also desperately sad.  There is a bizarre twist at the end, which I thought was brilliant. It's savagely funny, full of pathos, touching moments, frustrations, shame, stress and unhappiness,
A Book By A Female Author
I 'm spoilt for choice in this category, with lots of female authors to choose from. In the end I've picked A House Divided by Margaret Skea. Set in 1597 this is historical crime fiction at its best, a gripping story of warring factions in Scotland, the French Wars of Religion, superstition and horrific witchcraft trials. It's expertly narrated, full of tension and surprise, and based on historical facts that blend seamlessly into the narrative, with beautiful descriptive passages; one of the best I've read this year.
A Book With A Mystery
I could have chosen any one of the many crime fiction novels I've read this year, but instead I've gone for Miss Pym Disposes by Josephine Tey, which is not conventional crime fiction. There's a 'nasty accident' that Miss Pym investigated. It's a psychological study focussing on the characters, their motivation and analysis of facial characteristics. It looks at the consequences of what people do and say
A Book With A One Word Title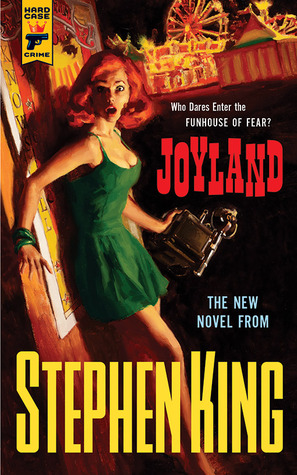 Joyland by Stephen King is a ghost story, a love story, a story of loss and heartbreak. It's also a murder mystery and utterly compelling to read. Devin Jones is looking back forty years at the time he was a student, suffering from a broken heart, and he spent a summer working at Joyland, in North Carolina, an amusement park with '˜a little of the old-time carny flavor'˜. There's just a touch of horror and the supernatural.
A Book of Short Stories
I am not a great fan of short story collections. I often find that they leave me feeling that something is missing, but Sandlands by Rosemary Thornton is s superb collection. These are strong, atmospheric stories, stories that bring to life the world of the past, tying them to the present, stories of family life, of the natural world, of folklore and of mystery. They are just the right length for me, perfect little cameos each one complete and satisfying.
Free Square
For this square I've chosen a book that the author didn't think she meant to write and one that turned out not to be the book I had expected. It's The Pattern in the Carpet: a Personal History of Jigsaws by Margaret Drabble.
I thought it was going to be about Margaret Drabble's memories of doing jigsaws, and she thought she was going to write a short history of jigsaws, but she found it 'spiralled off in other directions' and she wasn't sure just what it became. She says it is not a memoir, but part of it is about her childhood and life at Bryn, her grandparents' house in Long Bennington and about her beloved Aunt Phyl (Phyllis Boor). There are sections about the history of jigsaws and other puzzles. And then parts that lack a clear structure in a sort of '˜stream of consciousness' style, particularly in her reminiscences and nostalgia about life (reproduced in some jigsaws) in a rural community that no longer exists.
A Book Set On A Different Continent
The Songlines by Bruce Chatwin – set in Australia exploring the '˜Songlines', the labyrinth of invisible pathways which cross and re-cross Australia, '˜known to Europeans as '˜Dreaming-tracks' or '˜Songlines'; to the Aboriginals as the Footprints of the Ancestors' or the '˜Way of the Law'.
A Book of Non Fiction 
Alive, Alive Oh! by Diana Athill –  covering a wide range of Diana Athill's memories, many images of beautiful places, and the friends and lovers she has known. The chapters follow on chronologically but are unconnected except for the fact that they demonstrate her love of life. A lovely book.
The First Book By a Favourite Author
The Voyage Out by Virginia Woolf was her first book, published in 1915. She had started writing it years earlier when she had been suffering with ill health for some time '" depression,  nervous breakdowns and anorexia. She revised it several times before finalising it in 1912 and 1913. I found it an intriguing book, beginning in a leisurely fashion, as a party of English people are aboard the Euphrosyne, bound for South America. Yet there is tension in the air and this tension and sense of underlying trouble and anxiety continues throughout the book.  I was taken aback at the desperate sadness of it.
A Book You Heard About On Line
Most of the books I read these days are books I've heard about on line. I've chosen In Bitter Chill by Sarah Ward for this square because I first read about it on Sarah Ward's blog,  Crimepieces. This book combines excellent storytelling, moving smoothly between the past and the present as the secrets from the past gradually emerge, great characterisation and a superb location in the Derbyshire Peak District. There is a modern day murder that leads to the solution of a cold case 30 years earlier.
A Best Selling Book
A God in Ruins by Kate Atkinson was the Costa Novel Award Winner 2015. Set partly during the Second World War, this is the story of Teddy Todd. But it's also about the time leading up to the war  and its aftermath. I loved this book – I'll write more about it in a later post.
A Book Based On A True Story
The Spy by Paulo Coelho – a fascinating novel about  Mata Hari, whose real name was Margaretha Zella, and who was executed as a spy during the First World War. It's based on facts, but Coelho created some dialogue, merged certain scenes, changed the order of a few events and left out anything he thought wasn't relative to the narrative.
A Book At The Bottom of Your To Be Read Pile
People of the Book by Geraldine Brooks, a book I've had for nearly eight years. I should have read it years ago because  I loved it; it's a real gem! It has joined the ranks of my favourite books. I could have put it in the square for a book based on a true story because it was inspired by the story of the Hebrew codex known as the Sarajevo Haggadah. Some of the facts are true to the Haggadah's known history but most of the plot and all of the characters are imaginary.
A Book Your Friend Loves
Gilead by Marilynne Robinson – recommended by a friend in my local book group. Set in Gilead, Iowa in 1956 John Ames is 76, dying of heart disease, and writing a letter to his young son aged 7 telling him the things he would have told him if he had lived to see him grow up.
A Book that Scares You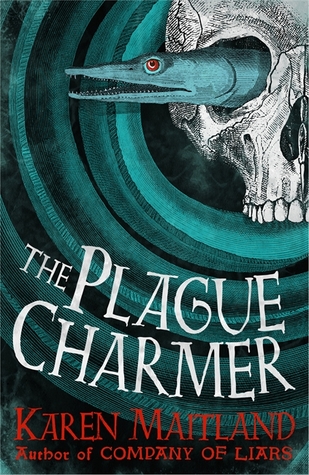 I tend to steer clear of scary books, but I was both fascinated and horrified by the events in The Plague Charmer by Karen Maitland, as she brought  the medieval world to life in all its brutality and hardship.It's a tale of folklore, black magic, superstition, violence, torture, murder, and an apocalyptic cult.
A book That Is More Then Ten Years Old
Death Comes as the End by Agatha Christie, first published in 1945. a detective story set in Ancient Egypt on the West bank of the Nile at Thebes in about 2000 BC. The mystery in this book is actually not too puzzling. For me, its interest lay in the setting and period details and Agatha Christie had based her characters and plot on some letters from a Ka priest in the 11th Dynasty.
The Second Book In A Series
The Black Friar by Shona MacLean is the second book in the Damian Seeker series, historical crime fiction set in 1655 during the Interregnum under Oliver Cromwell, the Lord Protector. Damian Seeker, Captain of Cromwell's Guard, works for Thurloe, Cromwell's Chief Secretary and spy master.  It's a complex mystery, a body is found bricked up in a wall, children have gone missing and there are various factions and religious sects plotting rebellion against Cromwell and to reinstate Charles Stuart as king. I haven't read the first in the series but I think this works well as a standalone book.
A Book With A Blue Cover
The Madness of July by James McNaughtie – a political thriller set in London in the mid 1970s one sweltering July as Will Flemyng the foreign office minister and former spy finds himself drawn back into the world of espionage, a world of deception, manipulation and diplomacy. It's the Cold War period and Will discovers politics can be just as dangerous as espionage. I loved this book, Naughtie uses beautiful imagery and the characters are vividly drawn. It's a book that made me think, that kept me on my toes as I read it; a book that both puzzled and entertained me.
Well, this post has taken me days to compile, but I loved doing it. My thanks to Cleo for this idea!