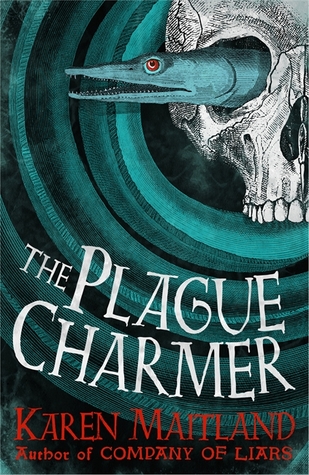 Karen Maitland is a great storyteller.
The Plague Charmer is a fascinating medieval tale full of atmosphere and superstition. It's a long but an unputdownable book, bringing the medieval world to life in all its brutality and hardship. I thoroughly enjoyed it. I received an uncorrected proof copy of this, her latest novel, from Lovereading. The book is set in Porlock Weir in 1361 where a village is isolated by the plague when the Black Death spreads once more across England.  Following an eclipse of the sun, as a storm rages along the coast, a ship is blown ashore bringing a dark stranger, Janiveer, to the village. She warns the villagers that the plague, raging in other parts of the country will soon spread to their village and offers to save them – but for a terrible price.
It's a complex story, told from different characters' perspectives, following the lives of Will, a 'fake' dwarf, Sara, a packhorse man's wife and her family, Matilda, a religious zealot, and Christina at nearby Porlock Manor amongst others. It's a tale of folklore, black magic, superstition, violence, torture, murder, and an apocalyptic cult – and also of love. As the plague spreads and more horrendous deaths pile up bringing  fear and hysteria, families are broken up, and hostilities surface as the village is isolated, left to fend alone.
I thought Will a fascinating character. He was not born a dwarf, but was subjected to horrific treatment as a baby, strapped into an iron bridle, compressed and deformed as he grew to form a squat little dwarf. He is remarkably free of bitterness and capable of more humanity than most of the other characters. Sara, too shows strength of character as she perseveres in her search for her two missing sons.
I like the Historical Notes, providing more detailed information about the period, the people and the location, as well as the legends, and the answers to the medieval riddles that head Will's chapters. I particularly like the information about the plague and the various religious cults of the period. The Glossary is also invaluable, helping to flesh out the detail.
The Plague Charmer is a superb combination of historical fact and fiction. I really enjoyed reading this detailed and chillingly dark atmospheric book. It's a memorable story with a colourful cast of characters, full of suspense and drama.
My thanks to Headline for also providing a proof copy via NetGalley.
Hardcover: 576 pages (also as an e-book)
Publisher: Headline Review (20 Oct. 2016)
Language: English
ISBN-10: 1472235827
ISBN-13: 978-1472235824