The Black Friar by S G MacLean is one of those books that has the power to transport me to another time and place. I was totally absorbed, convinced I was back in England in the 17th century.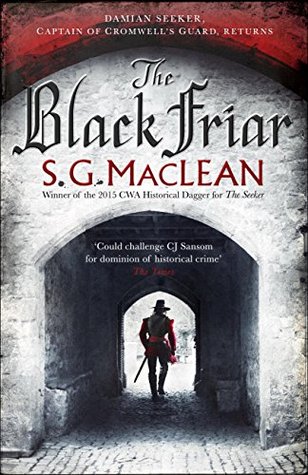 It is the second book in the Damian Seeker series, historical crime fiction set in 1655 during the Interregnum under Oliver Cromwell, the Lord Protector. Damian Seeker, Captain of Cromwell's Guard, works for Thurloe, Cromwell's Chief Secretary and spy master, in charge of the security of the regime. It's a complex mystery, particularly as there are various factions and religious sects plotting rebellion against Cromwell.
A body, presumed by his black robe to be that of a Dominican friar, is found bricked up in a wall in Blackfriars, once a monastery and now a derelict building gradually falling into the River Fleet. But this was no friar, as Seeker recognised him as Carter Blyth one of Thurloe's undercover agents, who had been working in the Netherlands, observing the Royalists colluding with foreign powers. As far as Seeker knew he had been killed in Delft three months earlier. Seeker's task is to find why he had been killed and who killed him. He discovers that Blyth under Thurloe's orders had in fact infiltrated a group of Fifth Monarchists who wanted to overthrow Cromwell and had been living with the Crowe family, members of the group, under the name of Gideon Fell.
It's a complicated and intricate tale as Seeker, helped by Nathaniel Crowe, tries to discover what Blyth had been doing, and what trail he was following. There are missing children, whose whereabouts Blyth had been investigating, and plots to overthrow Cromwell as well as plots to reinstate Charles Stuart as King.
Although The Black Friar is the second book in the series, (the first is The Seeker, which I haven't read) I think it works well as a stand-alone book. The characterisation is strong and I particularly like Damian Seeker, a man both respected and feared, and a man to trust.
I also like the way S G MacLean has based her book on solid historical research (she has an M.A. and Ph.D. in History from the University of Aberdeen) and weaves real historical figures into the story, such as the poet John Milton, now an old blind man, the Secretary of Foreign Tongues and the diarist Samuel Pepys, an Exchequer clerk, who though very personable was 'prone to drink and some lewdness.' It all brings to life the atmosphere and tenor of the 1650s. I loved it.
My thanks to Netgalley and Quercus books for my copy of this book. It is due to be published on 6 October.