I read seven books in June, all of them ones that I'd included on my 20 Books of Summer Challenge, six of them books that qualify for the Mount TBR Reading Challenge (ie books I've owned prior to 1st January 2016). And I've managed to write about six of them – see the links to the books listed below.
High Rising by Angela Thirkell (TBR) – an entertaining and witty social comedy, set in the 1930s.
Talking to the Dead by Harry Bingham (TBR) – crime fiction introducing DC Fiona Griffiths, one of the most original fictional detectives I've come across.
Asta's Book by Barbara Vine (TBR) – a murder mystery, a missing child, a question of identity and overarching it all are the stories of two families '" the Westerbys and the Ropers. A brilliant book.
A Shilling for Candles by Josephine Tey (TBR) – Inspector Alan Grant investigates the apparent suicide of a young and beautiful film star, Christine Clay, who was found dead beneath the cliffs of the south coast.
The Glass Room by Simon Mawer (TBR) – a gripping novel that had me on tenterhooks as well as being a beautifully written book, set in a Europe at war and its aftermath. I loved it.
Heat Wave by Penelope Lively (TBR) – an in depth study of angst, frustration and conflict, set against the changing landscape of the countryside, the effect of the heat on the land, the crops and the people.
Wycliffe and the Quiet Virgin by W J Burley – a search for a missing person turns into a murder case. (My post on this book to come later.)
During June I continued reading Andrew Marr's A History of Modern Britain, which has reminded me of all the difficult times we have lived through in the years after the Second World War and continue to experience.
I've been reading some excellent fiction and my favourite book has to be Asta's Book by Barbara Vine: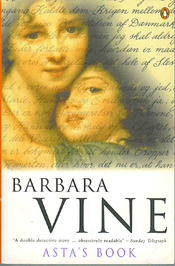 closely followed by The Glass Room by Simon Mawer: