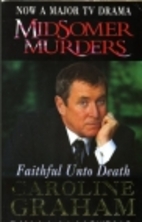 Faithful Unto Death by Caroline Graham is a Midsomer Murder Mystery. I've enjoyed watching the TV series over the years. Midsomer is obviously a dangerous place to live with all those murders happening so regularly, but they are not the gory kind – it's murder of a sanitised nature. Inspector Barnaby is a genial character, although an astute detective, one who is not quite up to date with modern police methods but relies on intuition and thinking.
So I was a bit surprised reading this book that the characters are a bit different, especially Sergeant Troy who is nothing like the TV character. On TV Troy was a bit naive and usually didn't have much of a clue about solving the murders, but a likeable chap who got on OK with Barnaby. Troy in the book is sharper, meaner, spiteful and inwardly critical of Barnaby. He's insecure, resentful and sees any creative or intellectual prowess in others as a criticism of his own life.
Set in Fawcett Green, an unspoilt peaceful village the book begins with the disappearance of Simone Hollingsworth, soon followed by her distraught husband's death, apparently suicide, then the disappearance of their neighbour's daughter. Barnaby and Troy, with the doubtful assistance of the local policeman Constable Perrot work their way through interviewing the village's inhabitants and gradually unravel the mystery.
It's an entertaining and satisfying book, full of detail and clues as to the eventual outcome, which I did work out before the end. The characters stand out as real people, and are described with humour and empathy. I don't remember seeing this on TV but reading about it online it seems it's differed from the book, so that's not too surprising. As in the TV version Barnaby is a patient, tolerant man,  also a bit grumpy and moody, who is trying and failing to lose weight, and who loves music. So many fictional detectives seem to like music and food!
This is the first Midsomer Murder mystery I've read and much as I like the TV series I prefer the book version – it has more bite and more substance. I'm taking part in the Cozy Mystery Challenge and although I'm still not too sure about the classification of "cozy" murder mysteries, I think this book can count as one.