Earlier this year I looked through my TBRs – the 'real' books – and as it prompted me to read more of them, I've decided to take a fresh look at some of the TBRs on my Kindle. I have a bad habit of downloading books and then forgetting all about them – it's as though they've gone into a black hole.
This is the second instalment of my A – Z of my e-book TBRs – with a little 'taster' from each. These are all fiction.
D is for Daisy in Chains by Sharon Bolton (on my Kindle since November 2014.)  I can't quite believe I haven't read this book as Sharon Bolton is one of my favourite authors, but there it is – I can see I started it as I'm on page 22. It's about a convicted murderer, Hamish Wolfe who tries to convince, defence barrister Maggie Rose that he is innocent.
The Times Online, Monday, 8 September 2014

CONTROVERSY IN COURT AS WOLFE TRIAL OPENS

Accused surgeon, Hamish Wolfe, refused to enter a plea on the first day of his trial at the Old Bailey today. In accordance with English law, he will now be tried as if he had pleaded not guilty.

Dressed in a dark grey suit, white shirt and blue tie, Wolfe appeared to be paying close attention to proceedings, but when asked to speak he remained silent, in spite of the judge, Mr Justice Peters, on three occasions, advising him that it was not in his interests to do so. (page 13)
There are letters, emails, and court transcripts as well as newspaper reports and the story is told from multiple viewpoints, told mainly as far as I can see from the little I've read, in the present tense, as in the following extract where Sandra, Hamish's mother is talking to Maggie as she drives her home from the beach:
I came here today to talk to you,' she says. I didn't want to come to your house, I didn't want to intrude, so I thought I'd wait for you at the beach. And then Daisy ran off just before you arrived. It all nearly went so horribly wrong.'

… 'I drove over this morning,' Sandra says before she's even changed gear. 'And yesterday morning too. I watched your car pull out of your drive. I guessed you were coming here. And that you come at high tide. (page 9)
E is for Exposure by Helen Dunmore, on my Kindle since July 2017. It's set in London in 1960 when the Cold War is at its height, and a spy may be a friend or neighbour, colleague or lover. At the end of a suburban garden, in the pouring rain, a woman buries a briefcase deep in the earth. She believes that she is protecting her family. What she will learn is that no one is immune from betrayal or the devastating consequences of exposure.
Another book written in the present tense, which again might be the reason I stopped reading this book at page 56:
It starts with a whistle of a train, shearing through the cold, thick dust of a November afternoon. Lily Callington hears it as she digs over her vegetable patch at the bottom of her garden in Muswell Hill. For a second she's startled, because the whistle sounds so close, as if a rain is rushing towards her along the disused railway line at the bottom of the garden. She straightens and listens intently, frowning. the whistle goes through her, touching nerves so deep that Lily doesn't even know where they are. The children! They aren't here. She can't see them, touch them, keep them safe.

Stop it you fool. They are not babies any more. Paul is ten, Sally almost nine. Even Bridget is five. They're at school. What could be safer than a primary school in Muswell Hill?

(pages 4-5)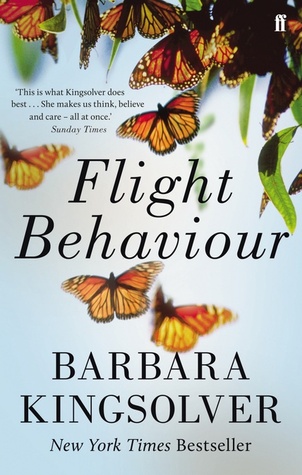 F is for Flight Behaviour by Barbara Kingsolver, on my Kindle since February 2014. On the Appalachian Mountains above her home, a young mother discovers a beautiful and terrible marvel of nature: the monarch butterflies have not migrated south for the winter this year. Is this a miraculous message from God, or a spectacular sign of climate change? Entomology expert, Ovid Byron, certainly believes it is the latter. He ropes in Dellarobia to help him decode the mystery of the monarch butterflies.
Dellarobia is a restless farm wife who gave up her own plans when she accidentally became pregnant at seventeen. Now, after a decade of domestic disharmony on a failing farm, she has settled for permanent disappointment but seeks momentary escape through an obsessive flirtation with a younger man. As she hikes up a mountain road behind her house to a secret tryst, she encounters a shocking sight: a silent, forested valley filled with what looks like a lake of fire.
The flame now appeared to lift from the individual treetops in showers of orange sparks, exploding the way a pine log does in a camp fire when it's poked. The sparks spiralled upwards in swirls like funnel clouds. Twisters of brightness against gray sky. In broad daylight with no comprehension she watched. From the tops of the funnels the sparks lifted high and sailed out undirected above the dark forest.

A forest fire, if that's what it was, would roar. This consternation swept the mountain in perfect silence. The air remained cold and clear. No smoke, no crackling howl. she stopped breathing for a second and closed her eyes to listen, but heard nothing. Only a faint patter like rain on leaves. (page 19)
If you've read any of these please let me know what you think?