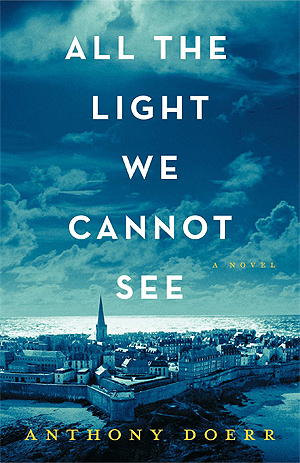 Synopsis:
A beautiful, stunningly ambitious novel about a blind French girl and a German boy whose paths collide in occupied France as both try to survive the devastation of World War II
Marie-Laure has been blind since the age of six. Her father builds a perfect miniature of their Paris neighbourhood so she can memorize it by touch and navigate her way home. But when the Nazis invade, father and daughter flee with a dangerous secret.
Werner is a German orphan, destined to labour in the same mine that claimed his father's life, until he discovers a knack for engineering. His talent wins him a place at a brutal military academy, but his way out of obscurity is built on suffering.
At the same time, far away in a walled city by the sea, an old man discovers new worlds without ever setting foot outside his home. But all around him, impending danger closes in.
Doerr's combination of soaring imagination and meticulous observation is electric. As Europe is engulfed by war and lives collide unpredictably, '˜All The Light We Cannot See' is a captivating and devastating elegy for innocence.
I have just finished reading All the Light We Cannot See by Anthony Doerr. I'm not going to write a review but want to jot down some thoughts:
It began well and I liked it straight away – see this Friday post.
There are three story lines – that of Marie-Laure, of Werner, and of a diamond that has magical powers.
But my overall picture of the book is of a blur, of confusion as it moved not only between characters but also backwards and forwards in time and I couldn't work out the time sequence. I kept going back to the contents list to try to work it out was I in 1944 when the book began or in 1942, or 43. Had I met this character before in the future, or in the past and where was I -in France, Germany, Vienna or Russia? How did the characters relate to each other? I was hopelessly puzzled for quite a large portion of this book. For a while the fog in my mind cleared and I thought I'd got it, only to find a few chapters later I was lost again.
So I gave up trying to work out dates; places and people became clearer to me and I did (I think) follow the story, but it wasn't easy as Marie-Laure's and Werner's time-lines were so fragmented.
The writing in parts is beautiful, great descriptions giving me some insight into what it was liked for ordinary people from both sides during the 2nd World War and what it must be like to be blind.
I liked all the detail of the model of Saint-Malo that Marie-Laure's father made to help her find her way around, models of the buildings and roads.
The title refers (I think) to the how the brain, which is enclosed within the scull – ie in darkness – is yet full of light, brimming with colour and movement. And also to the light transmitted by radio wavelengths; light caught from the sun within plants and within gem stones such a diamonds; light beyond our ability to see it within the electromagnetic spectrum.
I was glad to get to the end. I think it is over-long, and very slow. But overall, mainly because of its descriptive prose; the way it conveys what being involved in war is like; and the character of Marie-Laure, I liked it and gave it 3 stars on Goodreads.
A book for Bev's Mount TBR Reading Challenge, a book I've owned since 2016.