This Week in Books is a weekly round-up hosted by Lypsyy Lost & Found, about what I've been reading Now, Then & Next. A similar meme, WWW Wednesdays is hosted by Sam at Taking on a World of Words.
Now – Yesterday I began reading The Robber Bride by Margaret Atwood. I was amazed when I realised that this book has been on my TBR shelves for almost 6 years! It's certainly time I read it.
Blurb:
Margaret Atwood's The Robber Bride is inspired by "The Robber Bridegroom," a wonderfully grisly tale from the Brothers Grimm in which an evil groom lures three maidens into his lair and devours them, one by one. But in her version, Atwood brilliantly recasts the monster as Zenia, a villainess of demonic proportions, and sets her loose in the lives of three friends, Tony,Charis, and Roz. All three "have lost men, spirit, money, and time to their old college acquaintance, Zenia. At various times, and in various emotional disguises, Zenia has insinuated her way into their lives and practically demolished them.
Then: The last book I finished is Lady Susan, The Watsons and Sanditon by Jane Austen.  I loved it.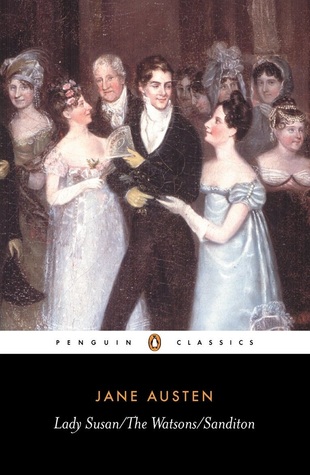 Blurb:
These three short works show Austen experimenting with a variety of different literary styles, from melodrama to satire, and exploring a range of social classes and settings. The early epistolary novel Lady Susan depicts an unscrupulous coquette, toying with the affections of several men. In contrast, The Watsons is a delightful fragment, whose spirited heroine Emma Watson finds her marriage opportunities restricted by poverty and pride. Written in the last months of Austen's life, the uncompleted novelSanditon is set in a newly established seaside resort, with a glorious cast of hypochondriacs and speculators,and shows the author contemplating a changing society with a mixture of scepticism and amusement.
My review will follow shortly.
Next – I'm never really sure which book I'll be reading next. It should probably be Adam Bede by George Eliot, but at the moment I'm feeling reluctant, so it is more likely to be The Paying Guests by Sarah Waters, which I've borrowed from the library.
Blurb:
'There came the splash of water and the rub of heels as Mrs Barber stepped into the tub. After that there was a silence, broken only by the occasional echoey plink of drips from the tap…

'Frances had been picturing her lodgers in purely mercenary terms – as something like two great waddling shillings. But this, she thought, was what it really meant to have paying guests: this odd, unintimate proximity, this rather peeled-back moment, where the only thing between herself and a naked Mrs Barber was a few feet of kitchen and a thin scullery door. An image sprang into her head: that round flesh, crimsoning in the heat.'
What are you reading this week?