Every Tuesday Diane at Bibliophile by the Sea hosts First Chapter First Paragraph Tuesday Intros to share the first paragraph sometimes two, of a book that she's reading or planning to read soon.
My opener this week is from A God in Ruins by Kate Atkinson: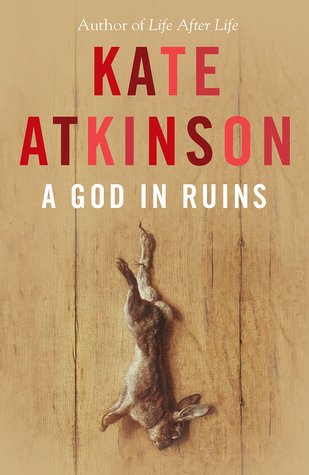 30 March 1944

The Last Flight

Naseby

He walked as far as the hedge that signalled the end of the airfield.

The beating of the bounds. The men referred to it as 'his daily constitutional' and fretted when he didn't take it. They were superstitious. Everyone was superstitious.
Blurb:
"He had been reconciled to death during the war and then suddenly the war was over and there was a next day and a next day. Part of him never adjusted to having a future."

Kate Atkinson's dazzling Life After Life explored the possibility of infinite chances and the power of choices, following Ursula Todd as she lived through the turbulent events of the last century over and over again.

A GOD IN RUINS tells the dramatic story of the 20th Century through Ursula's beloved younger brother Teddy–would-be poet, heroic pilot, husband, father, and grandfather-as he navigates the perils and progress of a rapidly changing world. After all that Teddy endures in battle, his greatest challenge is living in a future he never expected to have.

An ingenious and moving exploration of one ordinary man's path through extraordinary times, A GOD IN RUINS proves once again that Kate Atkinson is one of the finest novelists of our age.
I haven't read Life After Life, so I'm hoping that won't matter and that this book will read well as a standalone. If you've read it what do you think?