I've seen this tag recently on Annabel's blog (see her answers here) and on Simon's blog (see his answers here) and I thought I'd do it too …
The last book I gave up on
I don't think there's been one book I've given up on this year, but there are several books that I've started, read a few pages, or even a few chapters, and found them difficult to get into, so I've stopped reading them. But I haven't abandoned them as the right time to read them could come round sooner or later.
2. The last book I re-read
I don't do much re-reading, although I'd like to. The last book I re-read was The Poisonwood Bible by Barbara Kingsolver, one of my favourite books.
3. The last book I bought
That was Sarah Ward's A Deadly Thaw – her second book, just before Christmas. I loved her first book, In Bitter Chill. And I have a few to catch up with as she has now written books three and four in her DC Childs series.
4. The last book I said I read but actually didn't
I've never said I've read a book when I haven't – although there are books I think I've read and then when I look at them realise that I haven't – I've just known about them, or seen a dramatisation.
5. The last book I wrote in the margins of
I've only written (and underlined/highlighted) in books I've been studying for a course – otherwise I don't. One of the benefits of reading e-books is that you can highlight and make notes to your heart's content without spoiling the pages. And for 'real' books I have a tin of little book darts to mark pages of interest, as well as ordinary bookmarks.
6. The last book I had signed
That was by Jeremy Paxman when he visited Mainstreet Trading to talk about his book, A Life in Questions.
7. The last book I lost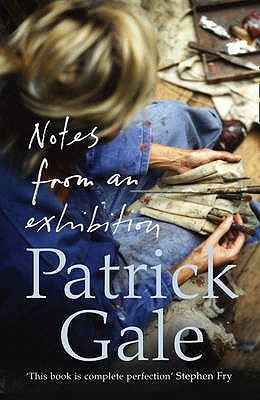 That was Notes from an Exhibition by Patrick Gale – but I hadn't actually lost it – I just hadn't put it back where I thought I had. I was going to buy another copy but luckily I found it in a box of books to return to the library!
8. The last book I had to replace
The Magus by John Fowles because it was chosen by my book group to read earlier this year. I'd read it years ago and given it away, so I bought the e-book version to re-read it.
9. The last book I argued over
I can't remember ever arguing over a book – discussed yes, but actually argued over, no.
10. The last book you couldn't find
See no 7 above.  I often misplace books. It's mainly because they're double shelved and end up out of the original a-z author I'd shelved them. And I'm not very good at putting them back on the shelves in the right place.