Six Degrees of Separation is a monthly link-up hosted by Kate at Books Are My Favourite and Best. Each month, a book is chosen as a starting point and linked to six other books to form a chain. A book doesn't need to be connected to all the other books on the list, only to the one next to it in the chain.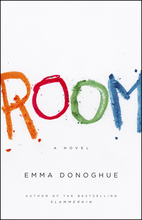 This month's chain begins with Room by Emma Donoghue – about a five
year old boy and his mother, abducted seven years earlier and living in captivity, confined to an 11 by 11 foot room. I haven't read this book which was on the Man Booker 2010 shortlist.
But I have read the first link in my chain, also on the list that year – The Long Song by Andrea Levy, a book about slavery in Jamaica just as slavery was coming to an end and both the slaves and their former owners were adjusting to their freedom. The narrator is July, at the beginning, a spirited young woman, born in a sugar-cane field, telling her story at her son's suggestion.
Slavery is the link to the next book – The Last Runaway by Tracy Chevalier, historical fiction about the life of Honor Bright after she emigrated from Dorset to America in 1850 where she joined a Quaker community in Ohio. It intertwines her story with that of the '˜Underground Railroad', helping the runaway slaves from the southern states to escape to Canada.
Also by Tracy Chevalier is At the Edge of the Orchard the story of a pioneering family on the American frontier, the Goodenough family, James and his wife Sadie and their five surviving children. It begins in 1838 in Black Swamp, Ohio where James and Sadie are arguing over apples and moves west with their son Robert to California.
Apples also feature in my next link – Hallowe'en Party which begins with the party given by Mrs Drake for teenagers. One of the guests, Joyce Reynolds, a boastful thirteen-year old, who likes to draw attention to herself, announces that once she'd witnessed a murder. It seems nobody believed her and yet later on she is found dead, drowned in the tub used for the bobbing for apples game.
Another witness to a murder is Detective Superintendent Andy Dalziel in Bones and Silence by Reginald Hill. He witnesses a bizarre murder across the street from his own back garden positive that he saw Philip Swain shoot his wife, but Swain insists it was an accident. He says he was trying to stop her from killing herself and the gun went off. Just what did happen?
My final link is through the structure of the title – 3 words linked by 'and'. It's Wives and Daughters by Elizabeth Gaskell, a book I'm currently reading. Set in rural England in the early nineteenth century before the 1832 Reform Act this is the story of two families, centred on Molly Gibson, brought up by her father, a widowed country doctor. When he remarries, a new step-sister enters Molly's quiet life '" lovable, but worldly and troubling, Cynthia.
So, my chain has gone from a book about a woman and her child (a son) passing through books about slavery, a pioneer family and their apple orchard to murder mysteries featuring apples and witnesses to murders and finally to a another book about parents and children (daughters).
I never know where my chain will end. What about you, where would yours end?