In advance of this coming Tuesday's Top Ten post on our Winter TBRs I thought I'd  look back at last year's Top Ten post Winter 2018 TBR to see how many of those books I actually read. (Top Ten Tuesday is a weekly meme created by The Broke and the Bookish and now hosted by Jana at That Artsy Reader Girl. For the rules see her blog.)
Links from the book titles will take you to my reviews or to Goodreads.
I finished 6 of them! 
Greenmantle by John Buchan – from my Classics Club list. Yes
It's the second of five novels featuring the character of Richard Hannay and is an adventure and spy story with a highly improbable plot. It's pure escapism.
Bitter Lemons of Cyprus by Lawrence Durrell – Yes
I read this nonfiction about Durrell's time in Cyprus, during the 1950s Enosis movement for freedom of the island from British colonial rule. His writing is richly descriptive and made me wish I could have seen Bellapaix in the 1950s.
The Accordionist by Fred Vargas – Yes
It's the third book in
the Three Evangelists series and it's probably the most puzzling of the three. They are quirky crime fiction novels, with eccentric characters and intricate plots.
The Old Man and the Sea by Ernest Hemingway – No
I gave up on this book. It just didn't appeal to me.
Wild Fire by Ann Cleeves – No
I am amazed, I thought I had read it! It's the 8th and last book in her Shetland series. I will read it soon.
The Lost Man by Jane Harper – Yes
This is a powerful book, a family drama, set in an isolated part of Australia hundreds of miles from anywhere, revolving around the death of Cameron Bright. I loved it.
Once Upon a River by Diane Setterfield – Yes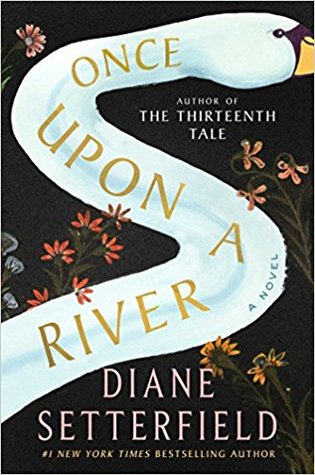 An intriguing and mystifying book, historical fiction with a touch of magic that completely beguiled me with its mysteries and fascinating characters. A badly injured stranger enters the Swan Inn at Radcot carrying the drowned corpse of a little girl. Hours later the dead child, miraculously it seems, takes a breath, and returns to life. 
The Glass Woman by Caroline Lea – Yes
Set in Iceland in 1686, this has a dark atmosphere, saturated in sadness, fear and superstition. It's a story of suspicion, love and violence, as a body surfaces from the ice-crusted sea, a body that had been weighted down with stones. It was too long, too drawn out and slow, especially in the first half of the book for me.
Mythos: the Greek Myths Retold by Stephen Fry – No
I began it but put it aside for a while, can't think why that was. I will get back to it.
The Brontës by Juliet Barker – No
I did start it, but I found the sheer size of it and the small font made it difficult to read, but I shall persevere.