Every Friday Book Beginnings on Friday is hosted by Gillion at Rose City Reader where you can share the first sentence (or so) of the book you are reading, along with your initial thoughts about the sentence, impressions of the book, or anything else the opener inspires.
I have just started to read The Murder of My Aunt by Richard Hull, a Crime Classic first published in 1934.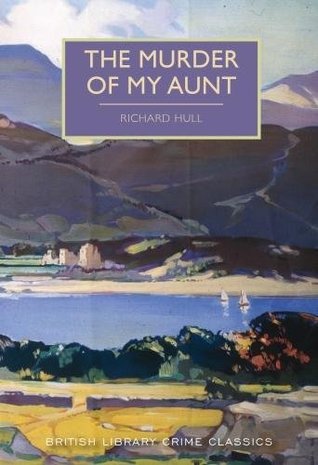 It begins:
My aunt lives just outside the small (and entirely frightful) town of Llwll. That is exactly the trouble.
Also every Friday there is The Friday 56, hosted by Freda at Freda's Voice.
These are the rules:
Grab a book, any book.
Turn to page 56, or 56% on your eReader. If you have to improvise, that is okay.
Find any sentence (or a few, just don't spoil it) that grabs you.
Post it.
Add the URL to your post in the link on Freda's most recent Friday 56 post.
Pages 55-56:
Blood is so repellent. In fact the very thought is so disturbing that I had to stop writing and read a story of de Maupassant's to calm my nerves, before I could continue to write these notes.
~~~
Blurb
Edward Powell lives with his Aunt Mildred in the Welsh town of Llwll. His aunt thinks Llwll an idyllic place to live, but Edward loathes the countryside and thinks the company even worse. In fact, Edward has decided to murder his aunt. A darkly humorous depiction of fraught family ties, The Murder of My Aunt was first published in 1934.
This tempts me in different ways – I like the title, I like murder mysteries and I like the promise of humour. And I like the cover too.

What do you think? Does it tempt you or would you stop reading?