WWW Wednesday is run by Taking on a World of Words.
The Three Ws are:
What are you currently reading?
What did you recently finish reading?
What do you think you'll read next?
It's been over a month since I last wrote a WWW post so I thought it was time for another one.


I'm currently reading: just one book – Great Britain's Great War by Jeremy Paxman. I began it in November because it was the 100th  anniversary of the end of the First World War and I wanted to know more about it.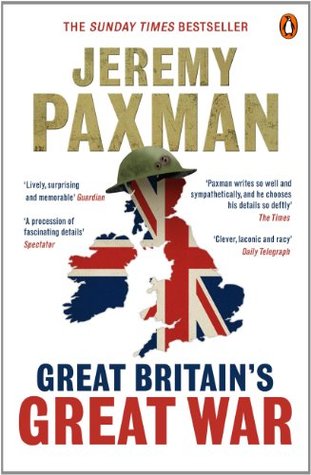 So far I've read just over half the book – now just starting to read about 1916 and the situation in Ireland. It's written chronologically, analysing the causes of the war and why people at the time believed it to be unavoidable and even necessary. Paxman writes clearly and goes into detail which means it's not a quick read and I'm taking it slowly. He writes about the people involved – the men who enlisted and those who were conscripted, the conditions they experienced from the trenches to the French brothels they frequented. It's also about life back in Britain and the changes the war brought about. It is fascinating.
This morning I finished:
Qnother fascinating book – The The Division Bell Mystery first published in 1932 by Ellen Wilkinson, a 1930s politician, about a murder in the House of Commons.  One of the reasons I enjoyed this so much is the setting in the House of Commons and the details it gives of not only the procedures and traditions, but a look behind the scenes and what it was like for the early women MPs. It's a good murder mystery too!
My next book could be:
It's time to start another novel but I am torn, as usual, and am trying to decide what to read next. It will probably be The Accordionist by Fred Vargas as it is a library book dues back at the beginning of January.
It's the final novel in the Three Evangelists Trilogy – I've read the first two. This one has the same characters – three thirty-something historians, Mathias, Marc and Lucien, all specialists in three different periods of history, who live in a rambling house in Paris.
I love Fred Vargas's quirky crime fiction, with eccentric characters and intricate plots that I find so difficult to solve. This one is about the murder of two Parisian women killed in their homes. The police suspect young accordionist Clément Vauquer and it seems like an open-and-shut case.
Have you read any of these books?  Do any of them tempt you?