I love doing Six Degrees of Separation, a monthly link-up hosted by Kate at Books Are My Favourite and Best. Each month a book is chosen as a starting point and linked to six other books to form a chain. A book doesn't need to be connected to all the other books on the list, only to the one next to it in the chain.
This month the chain begins with with Where Am I Now? by Mara Wilson, subtitled True Stories of Girlhood and Accidental Fame. Mara Wilson is a former child actress best known for her starring roles in Matilda and Mrs. Doubtfire. I haven't read this book which tells the story of one young woman's journey from accidental fame to relative (but happy) obscurity. 
As the title of Mara Wilson's book is a question my first link is to another book with a question in the title. When Will there Be Good News? by Kate Atkinson. A tale of disasters beginning when six year old Joanna witnessed the murder of her mother, older sister and baby brother. It's the third in her Jackson Brodie series. I raced through this very quickly as I was so keen to find out what happened. I know I missed the clues and I'd love to re-read it sometime!
The second link is to another book by Kate Atkinson, One Good Turn. This is the second  Jackson Brodie book, a cleverly constructed and complicated murder mystery. It's a puzzle and like the Russian dolls within dolls (which also feature in this book), there is a thread connecting it all together. I didn't think it was quite as good as When Will There Be Good News?, but still enjoyed it.
Another book with a number in the title is Agatha Christie's  Three Act Tragedy, also a book containing lots of puzzles to be solved. Poirot plays a secondary role, preferring to think rather than act and it is Mr Satterthwaite and Sir Charles who investigate the deaths of two of the guests at Sir Charles Cartwright's party. This is one of Christie's earlier books (1935) and I really enjoyed it.
Mr Satterthwaite, along with Mr Harley Quin, also features in Agatha Christie's short story collection The Mysterious Mr Quin, first published in 1930 . This is my favourite of her collections, containing some of her very best short stories.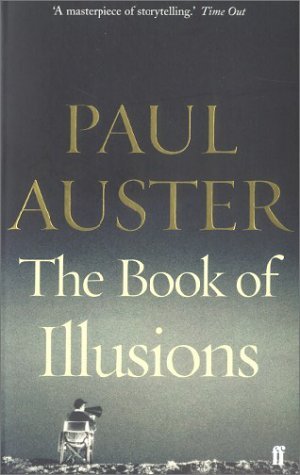 My fifth link is to another collection of short stories: The Breaking Point by Daphne du Maurier. These stories are dark, difficult, perturbing – and sometimes shocking, telling of double lives, split personalities, paranoia and conflict, each one with a 'breaking point'. One of the stories is The Menace about a silent movie star, a heart-throb until the advent of the 'feelies' when it is discovered that his magnetism is almost non-existent.
One of the characters in The Book of Illusions by Paul Auster is a silent movie star – Hector Mann. There are many layers to this novel; it's a detective story with gothic overtones, a love story and a novel about the passing of the 20th century, ending as the last weeks of the century approach. It's a circular story as well, ending with the hope that it 'will start all over again.'
And this completes my chain beginning and ending with books about movie stars, passing through murder mysteries and short story collections, and moving from the US to the UK and back to the US, linked by the titles, authors and characters.
Next month (October 6, 2018), we'll begin with a book I haven't read (or heard of before) – a story of teenage rebellion, The Outsiders by S. E. Hinton.